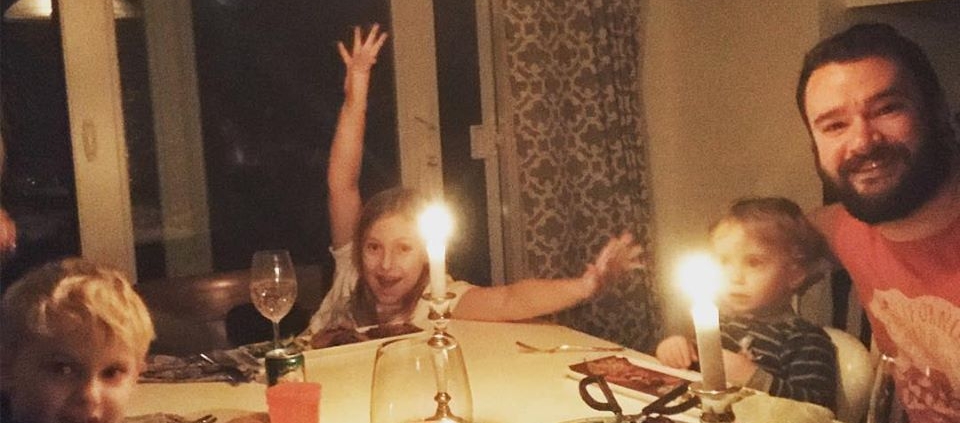 I'm obsessed with reading about how other people live their days and if I'm interested in this maybe you are too. So here it is. A day in the life of me Cass McCrory.
6:00-6:20 – Wake-up from our human alarm clocks
I love the idea of having a morning practice. I'm a morning person. I even have a morning song. But the kids have radar on my eyelids, and if they're open, they believe that they too should be awake. So the morning practice waits in this season and I wake up when someone else comes inches from my face to ask me: "is it time?"
I work from my office at College Town two-three days a week and then I'm home at least one day a week. I moved to a 4 day work week when Braeden was born and I'm never going back. In 4 days I'm focused, productive and fresh. That fifth day we get to spend with the kids enjoying them and managing house stuff without it filling our entire weekend.  For us that 3rd day in the weekend allows us to really relax rather than the weekend just getting us ready for another week of work.  Work to live; or live to work as they say.
6:20-7:00 – Get ready
I take the time to do my hair, put on makeup and perfume because it makes me feel good and ready to face the day. I usually wear a necklace and most of the time it reflects the phase of the moon. I weigh myself (I know, gasp) because it's part of the noom protocol and I've been using the app for a few weeks and with Leora done nursing I'm feeling really committed to being in this body again which means I've got some work to do but I feel great about it and I'm comfortable with it being a journey that I enjoy.
7:00-7:20 – Brown chair time
George and I enjoy coffee together in the brown chairs in our living room. I can't begin to tell you how great these chairs are but everyone that sits in them agrees they are the best and it's a wonderful time for us to connect on the day, pull a Tarot card, I share some randomness about my dream, a kid will crawl up in our laps with a book, we check the weather.
7:20-7:55 – Breakfast
We eat breakfast as a family every morning. George makes the best scrambled eggs with feta (seriously, try it and then thank him because he's a genius) and usually a slice of 27-grain toast from Wegmans – when we have ripe avocado we avocado toast and we'll frequently have a spinach salad on the side because I make better choices when I eat something green in the morning.
8:00-8:15 – Welcome Keira!
Kiera is our amazing nanny and we welcome her and translate who slept when, who ate what, and so on.
8:15-8:40(ish) – Drive to College Town
On my drive, I either immediately call my Mom and lose all sense of time and talk to her the entire time about 15,000 different things or I listen to a podcast. I love Good Life Project by Jonathan Fields, Online Marketing Made Easy from Amy Porterfield is always very action-forward which I appreciate.
8:40-12:00 – Work work work
I eat the frog. There's usually a frog – something I don't REALLY want to do and I have to decide if I'm going to look at that ugly frog all day or just eat it and be done with it. Usually, I eat it.  Then I go through the list that's been flowing through the week, deal with email, most days I'll have a client call or two in this window.
12:00-12:30 – Lunch
I'm trying to bring my lunch to work more but recently I've mostly been hitting Tai Chi here at College Town because they make THE BEST Shrimp Ramen I've ever had and it's so warm and delicious.
12:30-3:15 – Work
I tend to get in a good groove with working in the afternoons so I'll usually save writing and some other more full-brain tasks for this block of time. If I have a call in the afternoon I'm always wishing it gets canceled so I try to avoid them.
3:15-3:40 – Drive home
I either listen to music or a podcast or if I haven't talked to my Mom I'll call her on the way home. Sometimes both. Some people will not understand this….you don't have my Mom. If you did you'd call her as much as I call, just trust me on this.
3:45-5:00 – Hanging Out
There was a time I'd try to "get something done" in this window and then I had four kids and the expression shoveling in a snowstorm comes into really clear focus. We hang out in this window, yesterday I did a workout in the basement and the kids joined me, sometimes we work on a puzzle while the chaos swirls around us, sometimes we do art.
5:00 – 6:30 – Dinner prep & Dinner
Most nights we make dinner and all eat dinner together. Some weeks we're good at having a plan of attack and sometimes we are at Wegmans every single day picking up groceries. Everyone must try dinner and then if they can't even we'll provide a PBJ. Sometimes it is really awesome with funny stories and lots of talking and sometimes multiple cups of juice are spilled in quick succession. But every night I look across the table and I'm grateful I get to share this time with these people. It's fleeting and I love it.  Tonight we're having this Ina Garten pasta dish – Colleen will roll her eyes at this but we'll make the rigatoni homemade. It's fun, we play music and chat and the kids help and I love it. I think part of the appeal to the homemade pasta is how tangible it is.  All day long I'm making digital things that existing in the internet….to get to make something real and delicious feels fulfilling on a different level.  George and I have a weekly date night that I treasure and it's usually on Thursday's making it my favorite day of the week.
6:30-7:15 – Bedtime Prep & Bed for the Kids
We get the little kids in pajamas and each read them two books altogether – it's a lot of fun and something I hope they remember. Lex will read or practice her clarinet while we're doing this.
7:15-9:15 – Whatever we Want!
Some nights I read or a do a bit more work but most of the time we hang out. The new Mario Party for Switch is awesome and we are really liking this season of Top Chef. Mostly we share space and reset the house for tomorrow by cleaning up the toys, wiping down the surfaces, prepping the coffee, letting the dogs out, starting the dishwasher and all that good stuff.
9:15 – Bed
George will frequently stay up a little later. I'm sound asleep. It's true that Leora and the little kids are often up a couple of times a night and that broken sleep makes me feel more entitled to go to bed at 9:15 but the reality is I like to sleep at 9:15 – sleep is wonderful. We have a Westin Heavenly bed and it is worth every single penny.
That's a day in the life.  Will you share your day in the life with me? I love them so.
https://cassmccrory.com/wp-content/uploads/2019/01/FancyDinnerNight.jpg
956
960
Cass McCrory
https://cassmccrory.com/wp-content/uploads/2023/02/Best-Next-Step-1.png
Cass McCrory
2019-01-09 20:10:58
2019-01-09 20:17:16
A day in the life…