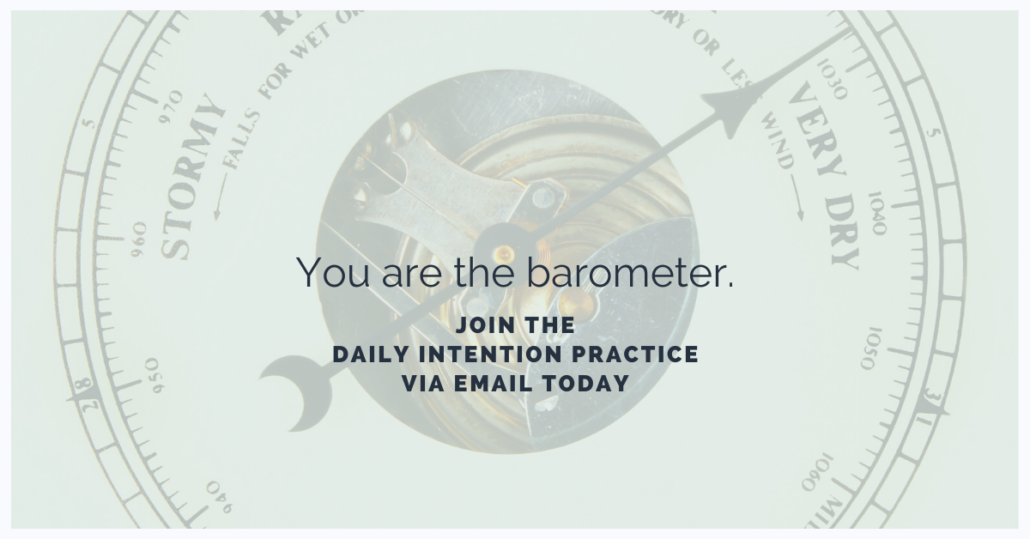 barometer: an instrument measuring atmospheric pressure, used especially in forecasting the weather and determining altitude.
My friends, today you are a barometer. In your home or at work you will be a barometer.
People will see the measure of your breath, they will sense your energetic pressure and it will impact the forecast ahead. The barometer is set by your intention.
Check-in with how you feel and how you're showing up like you'd check the weather if you were about to head out for a bike ride and a picnic.
We're in uncharted territory.
No one knows how this goes.
Intention says: "that's okay, I am open to the best possible outcomes."
No one has any idea what they're doing.
Intention says "finally the charade is up!"
We're figuring it out as we go.
Intention says "I've been waiting for THIS my whole life."
We're committed to the goodness.
Intention says "I am here for it."
Are you here for it?
Each day I'll be sharing a daily dose of intention. It's free and you're welcome to share it. There's no promise for exactly how long but as long as it's of service I'll show up. Don't miss it by getting it fresh in your inbox each morning by signing up here: https://cassmccrory.com/
https://cassmccrory.com/wp-content/uploads/2020/03/An-extra-dose-of-intention-sounds-like-just-what-I-need_-4.png
628
1200
Cass McCrory
https://cassmccrory.com/wp-content/uploads/2023/02/Best-Next-Step-1.png
Cass McCrory
2020-03-16 12:25:53
2020-03-16 12:25:53
You are the Barometer